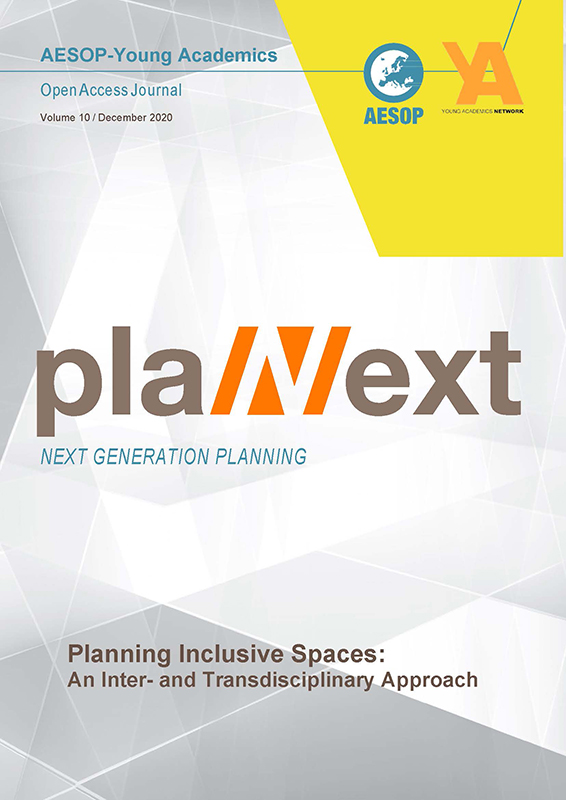 Editorial introduction
It is deeply satisfying to know that Volume 10 of AESOP Young Academics' peer-reviewed journal plaNext – Next Generation Planning is now available to you. This volume stems from the 13th Young Academics conference which took place from the 2nd to the 5th of April 2019 in Darmstadt and was hosted by the Graduate School of Urban Studies (URBANgrad) at the Faculty of Architecture of Technical University of Darmstadt. The conference was held under the title "Planning inclusive spaces: An inter- and...
Research article
During recent decades, urbanization processes and changing population compositions in European cities have underlined the relevance of social sustainability for urban development. Despite a growing amount of research on the social sphere of sustainability, the actual implementation of social sustainability in area development projects remains problematic. In the Netherlands, as in most other European countries, area development is understood as an interdisciplinary practice that strives to integrate strategies, activities and interests of public and private actors into perceived...

The research agenda for urban innovation and experimentation seems to find new momentum in recent times. The recent emergence of Urban Living Lab (ULL) is an example demonstrating such a trend. Against this background, this paper begins with the interest in clarifying what ULL is. Various sources offer many definitions of ULL, but these definitions often contain other ill-defined concepts. This paper questions the ambiguity of temporality and spatiality that is contained by ULL's emphasis on 'real' time and environment. There seems also oversimplification of ULL's origin, which...

Due to the decrease of public and private funds invested in the production and regeneration of public spaces in Southern Italy, collaborative efforts among public/private actors seems to be a compelling alternative strategy for supporting urban transformations. While both planning and policy approaches have been unable to completely adapt to meet these growing demands, many actors, such as the third sector, within distressed neighborhoods and communities, act as place-makers and seem to be the last stronghold of resistance for exercising the right to the city. What can be done to...

In the last decade, the world has seen a surge of protests and social movements. Also in Turkey, a group of protesters occupied the Gezi Park in 2013 against the government's plans to transform it into a commercial complex. This paper explores the protests to advance knowledge on the relationship between urban space and protests. The paper argues that first; Gezi Park reflects variegated 'rights of, in and to the city' created through 'commoning'. Second, the Park becomes a 'socio-spatial-virtual bricolage,' which contains past and present, traditional and contemporary and global and...